How To Make Your Home Sparkling Clean This Holiday Season
The holidays are a time for family, friends, and tons of cleaning. If you're hosting this year, you'll want to ensure your home is in tip-top shape before the guests arrive. From scrubbing the floors to dusting off the shelves, follow these simple tips to get your home holiday-ready in no time!
Clean your windows and mirrors
One simple but important task is to clean your windows and mirrors. This will create a more pleasant living environment and let in more natural light, making your home feel brighter and more cheerful. Plus, it's a great way to impress holiday guests! The best way to clean windows and mirrors is to use a vinegar solution and water. First, mix equal parts vinegar and water in a spray bottle. Then, spray the solution onto your glass surfaces and wipe away with a clean cloth. 
Vacuum and mop all the floors
Be sure to vacuum and mop all the floors before the event starts. This will help keep the dust and dirt from being tracked through the house and make cleaning afterward a breeze. Your guests will appreciate your thoughtfulness, and your housekeeping staff will be able to focus on more important tasks. So before your next holiday party, remember to vacuum and mop all the floors.
Dust all the furniture and surfaces
Dust can accumulate quickly on furniture and surfaces, making any home look dull and unclean. In addition, dust can be a trigger for allergies and asthma. To avoid these problems, regularly dust all the furniture and surfaces in your home. A good rule of thumb is to dust once a week. However, if you have pets or live in a dusty environment, you may need to dust more often. You can keep your home looking clean and welcoming all holiday seasons with little effort.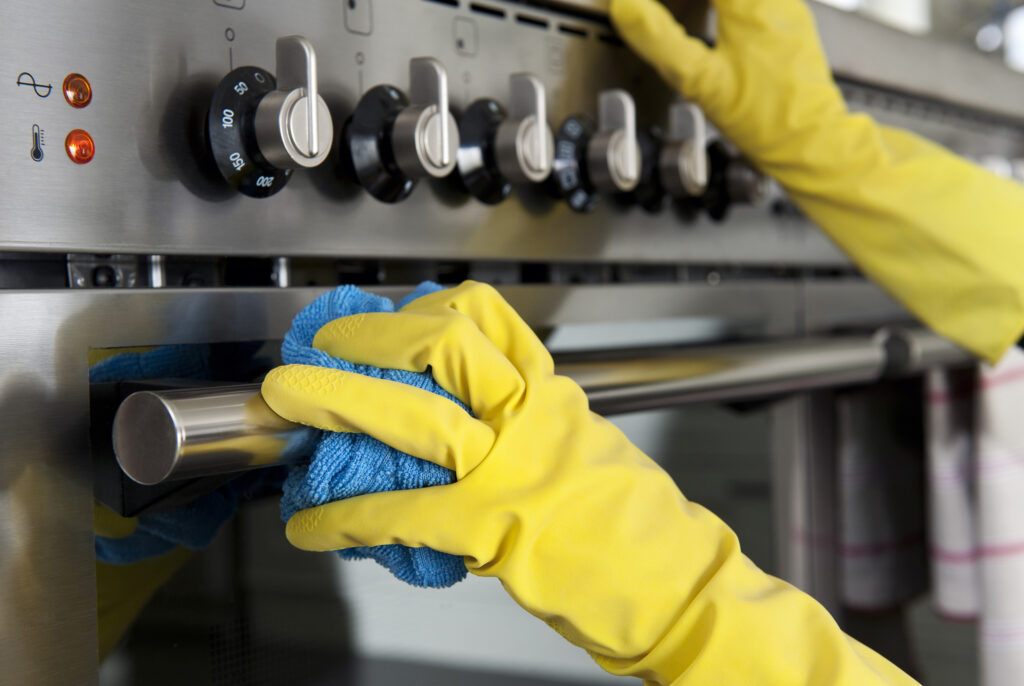 Wipe down all the cabinets and appliances
To ensure that your home is clean and presentable for holiday gatherings. That means taking care of all the little details, like wiping down the cabinets and appliances. A quick once-over with a damp cloth will help to remove any dust or fingerprints, leaving your kitchen looking its best. Plus, it's one less thing you'll have to worry about when party time rolls around. So take a few minutes before the holiday rush begins to ensure your kitchen is ready for holiday entertaining. Your guests will be impressed, and you'll be able to relax and enjoy the party, knowing everything is in tip-top shape.
Declutter your home in time for Christmas
If your home could be more precise and organized, relaxing and enjoying the holiday festivities can be tricky. Before holiday guests start arriving, take some time to declutter your home. 
Start by sorting your belongings and deciding what you need and can live without.
Next, create a plan for where everything will go. 
Donate items that are in good condition but that you no longer need, and throw away anything that is broken or damaged. 
Once you have decluttered your home, you'll be able to enjoy the holiday season stress-free.
Clean the bathrooms and kitchen
These two rooms see a lot of activity during the holidays and can quickly become cluttered and dirty. To keep your bathroom and kitchen looking their best, take some time to declutter and deep clean them before the holiday rush begins. Start by clearing off countertops and surfaces. Wipe down cabinets, appliances, and fixtures. Scrub the tub, shower, and sink. And remember to clean the toilet! Once you've decluttered and deep-cleaned your bathroom and kitchen, you'll be ready to enjoy the holiday season stress-free.
One important part of hosting a successful event is ensuring the silverware is polished. Silverware that is dull or tarnished can take away from the overall presentation of the table. Polishing silverware is not difficult, but it requires time and effort.
The first step is to remove any dirt or food particles from the surface of the silverware. This can be done with a soft cloth or a toothbrush.
Next, apply a small polish to a clean cloth and rub it into the silverware in a circular motion. 
Finally, use a clean cloth to buff the silverware and remove any excess polish. 
By polishing the silverware, you can ensure that your holiday table will be stylish and inviting.
There is often increased traffic in and out of the house during holiday gatherings. This can lead to a build-up of dirt, dust, and other contaminants on surfaces like a door handle, countertops and light switches. In addition, holiday parties often involve food and drink, which can increase the risk of spills and stains. To help keep your home clean and safe, regularly sanitize all surfaces. This will help to remove any bacteria or other contaminants that could cause illness. In addition, it will also help to prevent the spread of germs during the holiday season.
Book a professional cleaner.
A professional cleaner can take care of all the little details, so you can relax and enjoy the holidays. Booking a cleaning service before Christmas is a great way to ensure your house is ready for holiday guests. A professional cleaner can deep clean your kitchen and bathrooms and vacuum and dust every room. 
So why not give yourself the gift of a clean house this holiday season? Clarity Cleaning Services would be happy to help clean your home for the holidays! We provide top-quality cleaning services at an affordable price. Contact us at (618) 979-2287 or claritycleaningsvcs@gmail.com to get a free estimate. Let us take care of all your holiday cleaning needs so you can relax and enjoy the season!